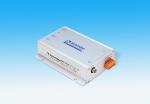 The SIR-2720 is a MidRange Reader/writer, operating in the 13,56Mhz frequency range.
The HF Reader/writer supports a broad variety of protocols, such as ISO15693 and ISO18000-3 Mode3 as well as Chip-specific proprietary authentication protocols, e.g. for EM4237.
The compact design and the up to 1.4Watt adjustable output power allow a reading range of up to 80cm and thus a wide field of applications e.g. in the apllications of library, industrial automation, logistics and laundry.