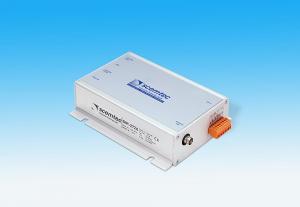 The SIR-2720 is a MidRange Reader/writer, operating in the 13,56Mhz frequency range.
The HF Reader/writer supports a broad variety of protocols, such as ISO15693 and ISO18000-3 Mode3 as well as Chip-specific proprietary authentication protocols, e.g. for EM4237.
The compact design and the up to 1.4Watt adjustable output power allow a reading range of up to 80cm and thus a wide field of applications e.g. in the apllications of library, industrial automation, logistics and laundry.
The HF MidRangeReader is available in various equipment variants, In addition to the classic SIL-2720 with the interfaces RS232, USB and Ethernet, versions with integrated 2-way or 4-way multiplexer are also available. It is also possible to refer to the Reader as an OEM module for customers own integration.
Beside to the software compatibility with the sttID reader portfolio, the SIL-2720 also supports the "SmartRead" functionality for autonomous operation. With a corresponding configuration, the SIR-2720 operates as a stand-alone device and manages the UID Numbers independently. Two inputs and two outputs are available for interactions with peripheral components, such as light barriers, buzzers or LED lighting.
The SIR-2720 has excellent technical data, supports the necessary radio licenses in all important regions of the world and offers an optimal price / performance ratio.
As an allrounder, the MidRangeReader supports both the stacking of I-Code ILT coins in gaming or casinos organizations, as well as decryption of crypto-algorithms for efficient and secure solutions for counterfeiting and trademark protection.